TripleStart™ 3-in-1 Advanced Technology Mulching Granules
Greater performance from mulching granules that work in hydroseeders, through a spreader or by hand.
HydroCover® TripleStart™ is your best option to quickly seed lawns, roadside strips, irregularly shaped areas, or patching dead and bare spots across a site. Its performance is better than all other granular mulch products available in terms of mixing and dispersion, coverage, erosion control and germination. You can apply TripleStart with a hydroseeder, Lesco 36" Drop Spreader with a fixed rate plate, or by hand.
See why TripleStart is the best granular mulch to spread or spray.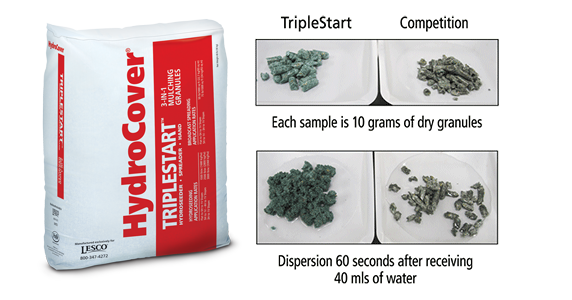 Hydroseeding
Quick and easy to pour due to flowable formulation
Rapid dispersion and fast mixing in jet-agitated hydroseeders
Smooth shooting of the high-coverage slurry
Resists rainfall impact to stay in place longer due to advanced tackifier technology
Dry Apply Through Spreader or by Hand
Increased swelling, dispersion and coverage compared to leading applied pellets
Smoother flowing for easy spreader application
Stays in place due to advanced tackifier technology
25% greater coverage for fast and easy application!